Topbuxus Health-Mix is a fantastic product that strengthens Buxus plants. I've noticed a significant improvement in the plants' resistance to a severe existing blight issue which has been virtually eliminated. The product is safe and easy to use and has given me the confidence to retain Buxus over other alternatives.
Timothy Hoskins, Head Gardener, Farmington Lodge Estate.
I've been using the original formula of Top Buxus Health Mix with good results on customers heavily blighted Box plants. It's easy to apply but it's important to follow the frequency of the manufacturers treatment regime and I would also suggest you wear a mask when spraying.
Geoff Carr. Geoffrey Carr Garden Design. www.geoffreycarr.co.uk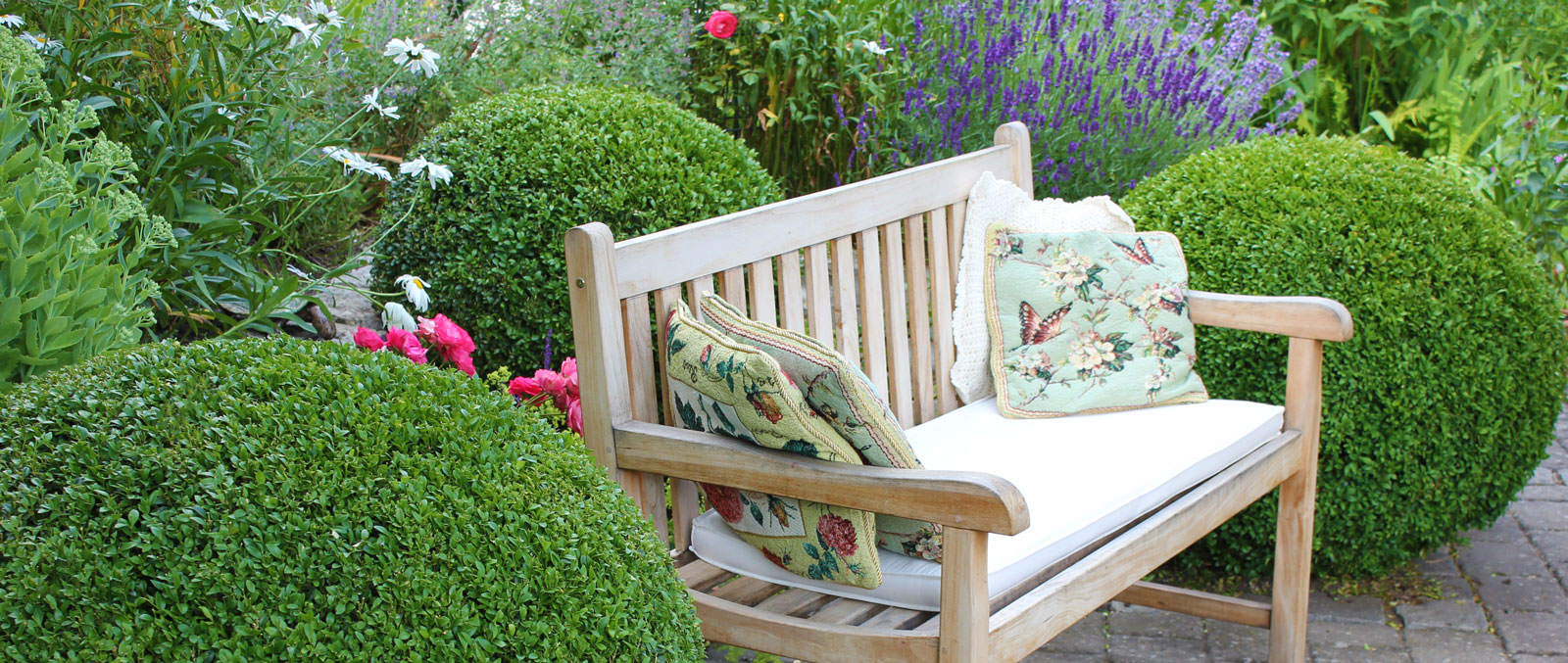 I have been using Topbuxus health mix for a few years now and I believe it to be an amazing product that is easy to use and noticeably improves the health of box plants under any sort of stress in just a few weeks including discoloration, leaf spots and the first signs of box blight.

It can easily be applied as part of regular garden maintenance.  Spraying plants and hedges five times a year keeps them in good health, leaving plants less susceptible to disease including box blight.

When used on box in pots and containers (which tend to go a shade of yellow and bronze, especially after a wet winter), you can see the colour returning to the leaves within a week after the first application.

I think it is a wonderful product and would recommend it to anyone. Being a spray it is taken up by the plant immediately rather than other products applied to the roots which can be awkward to use on a large box hedge.
Beth Cox, Landscape gardener and designer.
Hi, Your product is superb and working wonders with all my box plants. Had full recovery with one suffering with blight. I am a Head gardener on a large estate and have a large collection of box and topiary.

Thanks again for this wonderful product. I can't endorse it enough.
Head Gardener at a large estate in West Sussex
Tobuxus Health-mix is a great product – it totally revived 6 defoliated balls last year!
Jonnie Wake, Landmark Gardens Ltd. www.landmarkgardens.co.uk
It's revolutionary! I wouldn't be without it.
Head Gardener.
I think Buxus Health-mix is brilliant stuff!  We used it on a garden with an existing box blight problem and it dealt with the blight.  We implemented a routine of spraying and the blight has not returned.  I cannot say whether it would return if we discontinued spraying, but so far so good.  It also improved leaf color and general health.  We now use it on every garden – it really is a good product.
Jon Poulter, Countryside Contractors and Gardens – Click HERE for contact details
After many years of using other products with little success, the results of Topbuxus Healthmix have been excellent!
Philip Lee, Head Gardener
Just a quick note, today I have received my order. Thank you very much for such prompt service, from answering first enquiry to receiving items. Great!!
Wholesale Nursery Manager
Hi there, I am a professional gardener and my clients gardens range from an acre upwards -most with box . One particular clients box was in a really sad state but after 3 applications of Topbuxus Health Mix we are both amazed. Thank you for this amazing transformation!
Richard.  Professional Gardener in Stonehouse, Gloucestershire.
Last year I bought some Topbuxus Health Mix for a customer who had a lot of Box hedging, some of it over 100 years old and it was all infected with blight.  After 3 months there was a noticeable difference and now all the bight appears to have gone and the hedge has grown about five inches. My customer is ecstatic!
Mr S. Jones.  Professional Landscaper in Swindon, Wiltshire.
I'm very pleased to say that after two applications of Topbuxus Healthmix, there was a very rapid and remarkable effect.  The hedge is now covered with very healthy, new growth.

I cannot recommend Topbuxus highly enough, thank you.
Chris Hirons
Hi Jack

We were delighted with the results. After two applications not only has the problem been arrested but there also seems to be some re-growth as well.

Just for your interest we noticed signs of blight in one of our other box balls and also some in our neighbours plants so we sprayed everyone's and think we have stopped the spread of this nasty disease locally at least even though it used up our spare tablets.
Jean Ree
I have used all your products on our topiary buxus balls and as you can see they have been rejuvenated!! We are so pleased with the fantastic results.
If you needed someone to recommend your products we would be only too pleased to help.
It's amazing that the leaf structure and colour have both changed. The leaves appear firmer and darker.
Alastair
I absolutely love your products, I'm a newbie to box clipping after inheriting 2 that had been neglected & left against a wall for years, both had a flat side, so I re-potted  them last year & placed them in the open.

They have so much new growth this year thanks to your products.
Mary
Dear Sirs

I'd thought I would contact you as a business user that the product is amazing. Not only has it restored and saved a very old box hedge, but it has also saved a scarlet firethorn from brown spot.

The client is totally speechless and has said that her box hedge has never looked so healthy since she has lived there. The firethorn was in trouble and she didn't want to loose it. Every leaf had brown spot and 3 weeks later maybe a dozen leaves are left with brown spot.
Chris